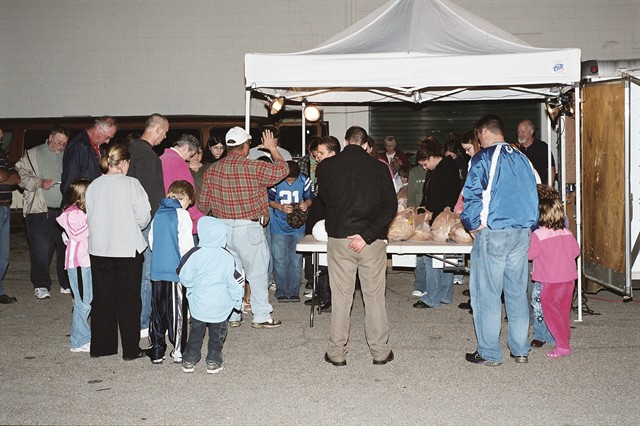 Bill Boone (hand upheld), founder of Servant's Heart of Indy, leads volunteer workers in a prayer before the distribution of food items to client families begins on Tuesday, November 20, at the non-profit organization's facility on Elmwood Avenue. Collection efforts in Franklin Township are attributed to a substantial increase in the number of families that Servant's Heart is able to assist during the Thanksgiving holiday season. Submitted photo. Click here for additional pictures relating to distribution night activities.
Food drive swells Servant's Heart bounty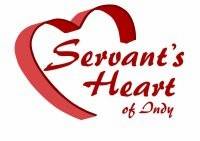 Oftentimes in the history of Franklin Township, a community known for its caring nature has responded to various needs presented by churches and organizations fronting highly worthwhile projects.
Once again, the entire community – representing businesses, schools, churches, youth groups and individuals alike – has responded with arms willingly extended. Collectively, so to speak, the volunteer outpouring has been highly successful in satisfying a special need during a national holiday period established specifically for being appreciative and grateful – one that is celebrated traditionally with remembrances of Pilgrims, pumpkins and turkeys. A true Thanksgiving bounty!
The official tally is in for what developed into a community-wide project to collect canned food items, an effort that was initiated several weeks ago by The Tim Back Insurance agency. At stake for the Franklin Township-based company was the aggressive goal of helping the nearby Servant's Heart of Indy provide food for several hundred Indianapolis Southside familes at Thanksgiving time.
Bill Boone, founder of the Servant's Heart non-profit organization, is delighted with the results. The overall effort influenced by The Tim Back Insurance agency produced the collection of 7,750 canned food items.
And Boone is feeling extremely grateful following what he terms "The World's Largest Turkey Dinner Drive-Thru." That's what he calls distribution night, a rewarding experience that unfolded on Tuesday, November 20, when Servant's Heart volunteers were able to provide occupants of a cavalcade of lined-up cars representing 244 client families (that included 504 adults and 544 children) with food for Thanksgiving.
"This is quite an event," Boone said, explaining that client families begin lining up their cars at around 4 o'clock on the afternoon of distribution. The Beech Grove Fire Department arrives later on with its trucks to shine spotlights up and down the parking lots adjacent to the Servant's Heart facility at 5602 Elmwood Avenue ( Suite 212 ).
This year's distribution was the largest for Servant's Heart since its inception five years ago.
"This year represents an increase of 93 families – 61.59 percent – over last year that Servant's Heart is able to help," Boone said. "God is so good to take care of it all."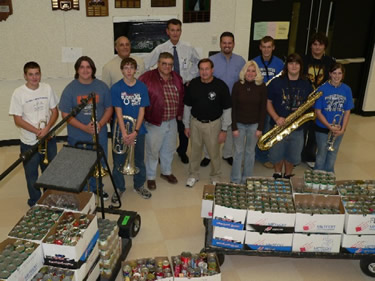 Members of the Franklin Central High School band are responsible for collecting 1,906 canned food items to help with the community effort in behalf of Servant's Heart. Joining the non-profit organization's founder Bill Boone (maroon jacket) and Tim Back of The Tim Back Insurance agency which was instrumental in launching the food drive are band members Laura Green, Sam Miller, Andy Keim, Austin Reed, Sam Bruce, Derek Kroening and Eric Burriss, along with band directors Dan Fyfee and Sarah Dunblaizer and high school administrators Principal Kevin Koers and Assistant Principal Frank Sergi. Submitted photo.
There were many contributors to the success of the canned food drive attributable to efforts in Franklin Township that were part of the overall 2007 Tim Back Can-Do Challenge. For example:
The Franklin Central High School band collected 1,906 canned food items. Band Director Dan Fyffe said members of the band turned the collection drive into a very competitive challenge among band sections.
Affiliated Computer Services, located east of Emerson Avenue on Victory Drive just south of Interstate 465 (and likely the largest employer closest to the Servant's Heart headquarters), responded to a challenge of 1,000 canned food items with a goal-breaking total of 1,315. The company's Software Development Department led the way with 532 cans.
The Erie Insurance State Office collected 1,200 cans. The Tim Back Insurance agency recently received numerous awards at Erie Insurance's Indiana Annual Dinner Meeting and also was recognized as "the fastest growing Erie agency ever" in Indiana.
Youth organizations also played a big part in the canned food drive.
A long-time youth football coach, Back extended a "Bring It On" challenge to members of Franklin Township Youth Football. Players and family members responded by donating 634 canned good items on the league's Championship Day.
In an off-season effort, members of the Franklin Township Rookie League provided Back and Servant's Heart founder Boone with a pleasant surprise when the baseball league's vice president, Bret Gillespie, delivered 136 cans collected by baseball families to the football field.
Franklin Township Middle School basketball teams also participated in collecting canned good items.
Franklin Central High School cheerleaders distributed flyers seeking donated canned food items from various Franklin Township subdivisions.
In addition, FC students donated time in helping collect canned good items from numerous pick-up points. Among students volunteering around five hours apeice were Amber Carter, Natasha Coppage, Matt Hamner, Jake Hartley, Nick Pitts, Robert Quinones-Perez, Kaila Ryan, Stephanie Swazay, Yaleeza Velazquez, Manny Walia and Amy Walls.
"I was quite impressed with the students' attitudes and willingness to help out," said Back, who helped direct the pick-up effort. "It was a great day and we achieved a great deal. The students even helped unload the collected items at Servant's Heart and were able to observe financially challenged families shopping for the food that we contributed that day. It was an amazing and humbling experience for them to see that. And it makes me thank God for all the blessings in my life."
Many Southside businesses participated in the positioning of Tim Back Tubs in their lobbies for employees and customers to donate canned food items. Among those helping with this program were:
** ACS, Alexandria's Gift Baskets, Alro Steel, Beech Grove Community Center, Beech Grove Meat Market, Best In Sight Eye Care, Design and Build Contractors, Enterprise Car Rental, Erie Insurance State Office, Indiana Dental Prosthetics, Modish Salon, National City Bank, Pirtek Air Hose, Rite-Way Tools and Veros Accounting Partners.
Another major participant in all facets of the food drive effort was Chick-fil-A at Southport Road . Restaurant owner Matt Sewell and members of his staff – along with mascot Chick-fil-A Cow – spent many hours at several canned good collection sites, rewarding hundreds of those instrumental in gathering canned good items with coupons for free sandwiches and milk shakes.
Among the many others who provided help were:
Business Art and Designs (signage)
David Brenton Real Estate Team (loan of truck)
Robinson Trenching (special transportation donation)
Straight-Line Restoration (loan of truck)
While the overall canned food drive was geared for the Thanksgiving holiday season, Servant's Heart provides assistance on an ongoing monthly basis. The collection of more than 7,700 canned good items will also make available enough food supplies to provide client family support for several more months.
Servant's Heart provides assistance for families in the Southside zip codes of 46237, 46239 (south of Troy Avenue), 46259, 46227, 46107 and 46203 (south of Raymond Street ). Supported by a variety of area churches, corporations and private donations, Servant's Heart will accept contributions of food, clothing and monetary offerings.
For additional information about Servant's Heart of Indy, call (317) 788-9433, or visit http://www.servantsheartofindy.org/.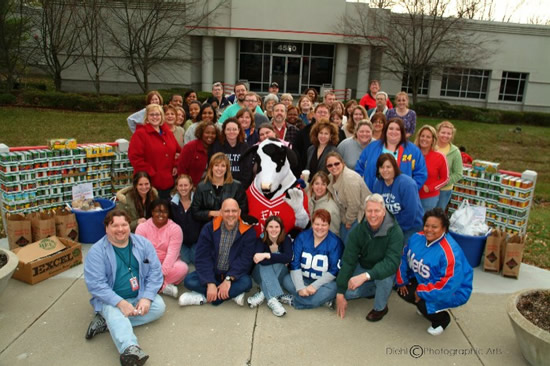 Employees of Affiliated Computer Services, located on Victory Drive in Franklin Township, celebrate their collection of more than 1,300 canned food items as part of "The 2007 Tim Back Can-Do Challenge" that helps Servant's Heart of Indy with its mission of assisting Southside families with food and clothing needs. Submitted photo.
- FTONEWS.com -