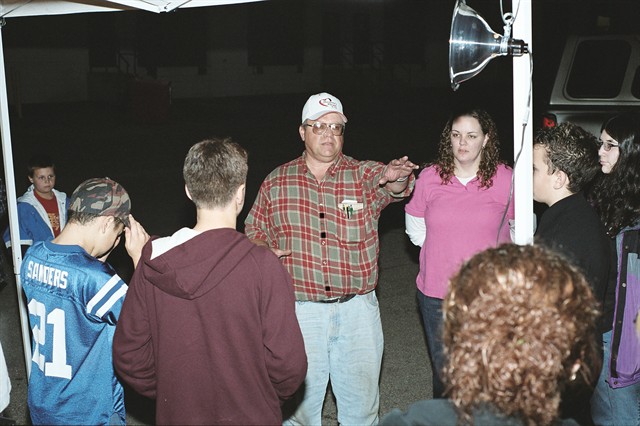 Servant's Heart of Indy founder Bill Boone issues instructions to volunteers just before the distribution of food items begins to over 200 client families that are a part of what Boone terms "The World's Largest Turkey Dinner Drive-Thru." Efforts in Franklin Township produce the collection of more than 7,700 canned food items that help with the Servant's Heart mission of assisting Southside families. Submitted photos.
| | |
| --- | --- |
| At right, Franklin Township resident Tim Back checks in client families as they arrive at the Servant's Heart distribution-night proceedings. His company, The Tim Back Insurance agency, is credited with influencing the collection of enough canned food items to help with the Servant's Heart holiday season assistance program that will help 244 families. | |
Helping with the loading of passing vehicles are the father-and-son team of Chris and Austin Reed. At left, Chris Reed is helped in loading a vehicle by youngster Anna Thatcher of Greenwood. At right, Austin Reed, a Franklin Central High School band member, places food items in the back of a client family's car.
| | |
| --- | --- |
| At right, Servant's Heart founder Bill Boone greets members of a client family as they pass through distribution points. Also on hand is Beech Grove Fire Department personnel and trucks that are assisting with traffic control and providing additional lighting for the area. | |
At left, Chick-fil-A at Southport Road owner/operator Matt Sewell helps load food into vehicles. At right, the store's mascot, Chick-fil-A Cow, also is available to assist with the distribution-night activities.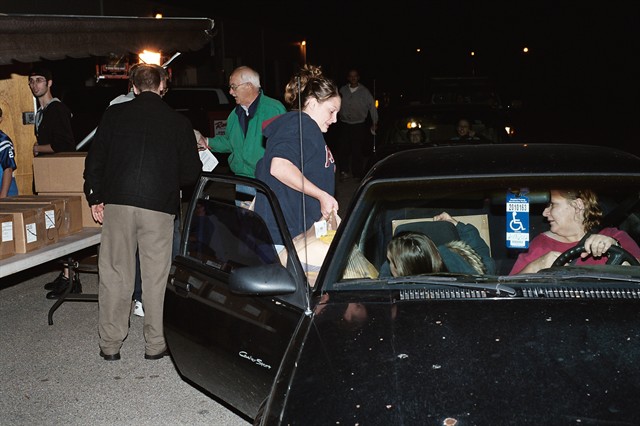 Volunteer worker Kaci Evans helps with the loading of turkeys into vehicles passing through "The World's Largest Turkey Dinner Drive-Thru."